2023 Ford Bronco in West Covina, CA

Learn More About The 2023 Ford Bronco at Performance Ford
When you're looking for your next model, you're going to want something that's capable and powerful. Every model should be able to handle smooth pavement, but when you're looking for a vehicle that's durable enough to brave everything from sand to snow, you'll want to get behind the wheel of the 2023 Ford Bronco. When you want to see what this model is truly capable of near West Covina, Montebello, or Los Angeles, you're going to want to head to Performance Ford, where you'll be able to take it for a test drive.
Top Features of The 2023 Ford Bronco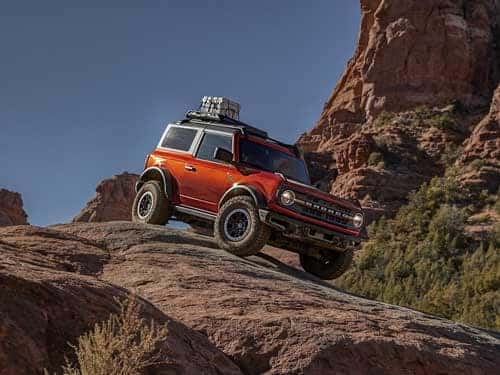 Incredible Off-Roading Ability
When you have so many unique driving modes to work with, off-roading has never been this easy. When you encounter new terrain, you can always quickly adjust with the 2023 Ford Bronco.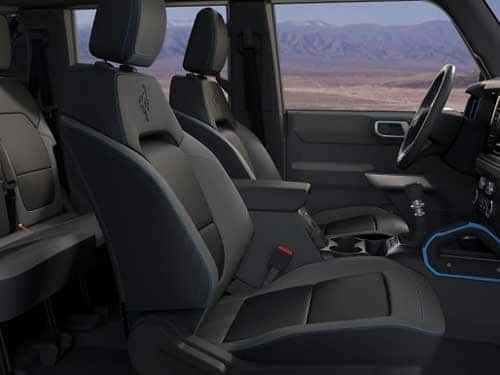 A Practical Interior
The interior of the 2023 Ford Bronco was designed to be practical, which is why you'll find that it's easy to clean and manage. You'll still have plenty of luxurious features though, like the available heated steering wheel.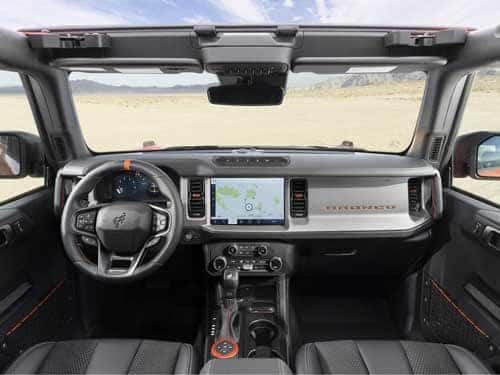 Your Center Screen
You can enhance your drive with features like your infotainment system, which can seamlessly pair with your phone regardless of whether it's an Apple or Samsung device. From there, you'll be able to use all of your favorite apps.
Built To Go Anywhere
The Bronco was built to go places that other vehicles simply can't. That's why you can expect standard utility in the form of 11.6 inches of ground clearance, and 33.5 inches in water wading. On top of this, you'll be able to choose from four different HOSS systems that will give you an edge when it comes to off-roading. This gives you the capability to go wherever you please, and if you opt for the available steel bash plates, you won't have to worry about damage either. They cover all the essential parts of your model, like your transfer case and fuel tank.
Key Safety Features
Safety is important when you're on the trails, which is why this model brings a slew of standard and available features to the table. Whether you're rolling over pavement or dirt, you can count on these systems to look out for you.
Hill Descent Assist: When this system is activated, your brake will automatically engage as soon as you let your foot off of the gas pedal.
Pre-Collision Assist: Accidents can happen in a matter of seconds on the road, which is why this system will be able to react for you by hitting your brakes.
Rear View Camera: Whether you're trying to park or you just need to check your surroundings, this feature is sure to come in handy.
A New Look
When it comes to the Ford Bronco, you'll have a look that truly stands out on the road. Its design is geared almost entirely toward off-roading, as it has great break-over angles and amazing ground clearance. You'll be able to truly make this model yours, as you can choose between a two-door and four-door option, and you can even opt for either a soft or hard-top roof. You can also add a wide variety of accessories to the model, including a front bumper winch, tailgate storage, a kayak roof rack, and more so that you're perfectly kitted out for your next adventure.
When you've decided that the 2023 Ford Bronco is the model for you, you're going to want to pre-qualify online before visiting Performance Ford.